Moor Street Tunnel Concepts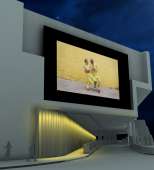 One Station Project
Architectural Fin Lighting
The image on the main LED video screen is sampled and linked to the colour of light used in the tunnel. For example, a mainly yellow image would result in the lighting to the fin becoming yellow.
The eye catching impact of the large video of screen is translated into the underpass below along its full length and creates a draw into the tunnel as it becomes a much bigger feature.
As images change the light colour would be changed but specific content could be created to give specific effects and color changes within the tunnel – clouds passing for example.
Live feeds and reactions could be integrated to further enhance the dynamic of the experience.